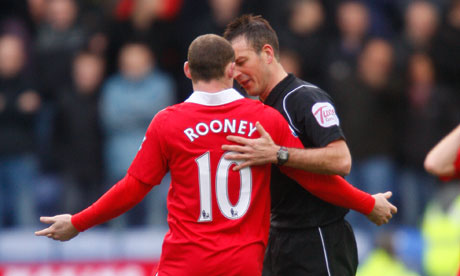 (To be a "touch" fair - pic NOT from today's game)
Now as you regulars know ... I'm not a great fan of the over-hyped, overpaid stuff that is Premiership football - but I do tend to find myself in pubs now and again with it blasting out on big screens/HD etc etc. (my excuse today was having done the painting - mentioned in previous - I needed "a break" - and having suffered the Man City game last night, 'twas only fair that I kept one eye on t'other side of town this afternoon).
But if that's the state of refereeing at the highest level - what hope have we got ??? Down "at the bottom" of football, we've seen some duffers - but we've also seen some good 'uns who have made it through to the very highest level (think best example here was Uriah Rennie who I watched go up and up - and he was a good 'un).
However .... Clattenburg has got previous, as they say - and today he ruined a keenly contested game with two highly "iffy" red cards (you wonder if he's getting free chewing gum off Fergie - just a thought). Trust both of those red cards will be appealed - and maybe rescinded - but obviously it's too late for Chelsea who having got back from 0-2 down to 2-2 - thoroughly deserved on the immense pressure they exerted - saw their chances of going on to win extinguished by the clown in charge.
IMHO - this guy wants sacking. End of.
.