Just for starters ...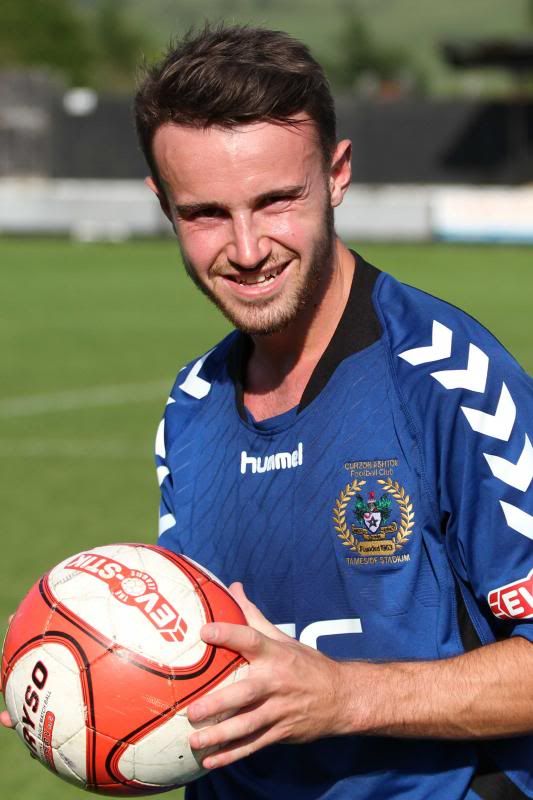 ... cus I met his Dad in the pub before the game while I was having my "pre-match shandy" - I give you Curzon's hat-trick hero Matty Warburton.
LATER (1) ... Here's the rest of the pitures from today -
Mossley 2 Curzon Ashton 3
.
MUCH LATER (2) - a few words on the game ... obviously the better team won (no complaints there) - much talk about the third goal for Curzon being offside - can't enter into that (wrong end etc etc) - but my basic thoughts involve the Curzon pressure pushing the Mossley midfield further and further back ... which meant the link to up front was broken - reckon Lewis Nightingale (my "hope for the future") got pulled so far back, his presence was diminished - not saying he didn't give 100% or anything - just that he was not as effective as we've seen previously. Again though ... at 1-3 down there was no giving up - when it went to 2-3 there was hope ... but unfortunately Curzon are not Ossett Town, and they closed it down. So ... Mossley still looking for their first league win ... but it won't take long ... and an FA Cup game on Saturday should lift spirits ... not forgetting the £1,925 on offer to the winners.
Looking further afield from Monday ... the Droylsden 'improvement' on Saturday came to a shuddering halt with a 4-1 defeat at Ashton United - Stalybridge got a 2-2 draw at home to Bradford PA (as per usual the Celtic internet warriors not impressed !). Finally Hyde lost 0-1 "on the telly" to Grimsby Town.
.