For the third morning, the coffee machine @ Greggs on Piccadilly Approach was not working - curse this weather - always my option (why pay £1-80+ at Costa Lottie when by leaving the station and walking 50 yards you can save 50p or more !).
Snow - again today (morning anyway) - probably enough to cock-up up Saturday football - although I hope to be proved wrong ....if push comes to shove, there's probably "ways and means" of getting to Bitton v Glossop North End in the Vase ...
The trains remain the same - it's really been a "big up" to Northern Rail & First Trans-Pennine - they may have been sh*te over Christmas/New Year, but this snowy week -they've been excellent !
Anyway - to today's moment of total geekdom .... last year they installed extra lights on Platform 2 at Cheadle Hulme to enable bi-directional workings - and the lights were promptly covered with sticky tape for God knows how long ... but TONIGHT ... the screens showed the Crewe to Manc train as leaving from Platform 2 - a first (for me anyway !) - so naturally it's time to whip out the camera and "keep the moment" ... feather and all ...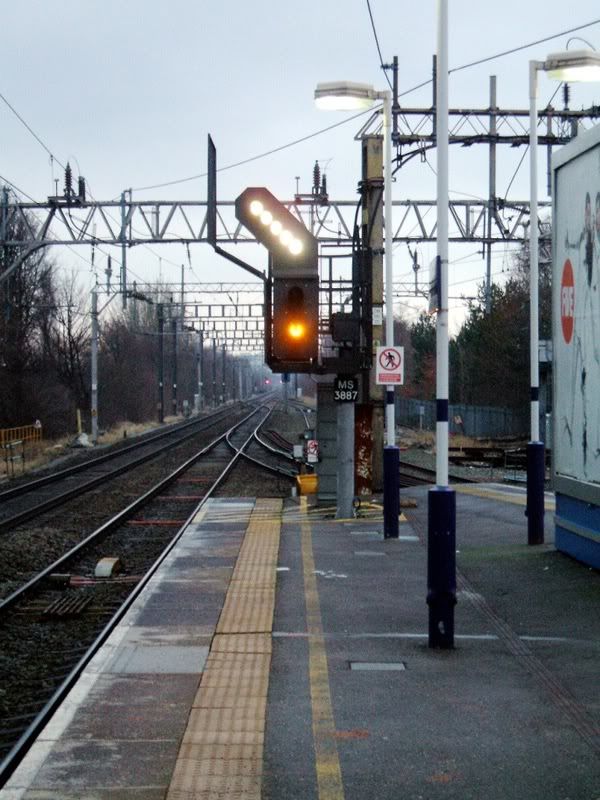 ... it's up there with the opening of Platform 0 (zero) at Stockport Station - check out the previous post including the word anorak !!!!!
an (almost) train at Platform 0 (zero) (Stockport)
.