..
OK last night for starters - got there - Bower Fold - late (yep the Parents Evening @ Salford College - which also confirmed my earlier blog post that "Steve Settle is unavailable for the Lancaster/Mossley game" - well work DOES come first - my excuse for missing out the 0-3 defeat @ Giant Axe was "Your kids come first") - but still in time to see Celtic go one down.

Panic ?? Nobody did (apart from me still desperately trying to get my snapper gear in order - it gets harder and harder "in the dark" - even under the Conference standard of "lux 250"). Celtic meanwhile didn't panic - played it around - even backwards at times - but it eventually brings results, and for me once the equaliser went in, Gloucester were seriously on the back foot - and Celtic knew it ! Number 7 Dave Hankin - who's moved up to Conf North from Unibond 1 North Clitheroe - was the key ... surging down the right and putting over 'dirty balls' both in the air and on the ground - an absolute nightmare for the Gloucester defence. In the end 4-1 was well-deserved - and to be honest, could have been more.


Today ... one of those "dolescum" days for me - checking emails in (2 knock-downs) and going round the agency websites - and putting house in order and cooking posh tea. Got "pass out" to watch fitba tonight - 'twas Liverpool v AC Fiorentina - and Florence certainly 'put one into the machine' with that late late winner from Gilardino .


Job hunt ?? I've started to write "a book" about this stuff - OK it would be nice to get something sorted before Christmas but .. I seriously wonder about the validity/honesty/usefulness of certain of these so-called "job aids" - I really do. There was a post a few months ago on here where I despaired of "being honest" because "being honest" gets you nowhere these days - I start to think a few 'tweaks' to job applications/date of birth etc might make a difference - who knows .. but if I ever meet a "banker" (with a £30,000 bonus - i.e crooked dishonest cheating scumbag who will further himself to the detriment of thousands of others) in the street, I may well become VERY VERY dishonest ...yes sh*t would certainly be k*cked out of said leech ... people like that put people like me where we are today ... just like being back in Maggie's recession - yep last time I got made redundant ...

Still - looking forward to Friday at this moment in time - DragonForce @ Academy .. and I found out last night that several of the (younger) Stalybridge Celtic Matchday Stewards will be there also - just a shame they won't have their hi-vis on - I might have been able to wangle "big camera" into the gig !! As it stands you will get only "AliceInChains" quality as the "baby camera" seems to be on the way out ..OK it has been for a number oif years but --has never been replaced - maybe a PowerShot A480 for Christmas (although my earlier hint for a Manfrotto 679 monopod has today been upgraded to a 681 - for the extra couple of inches ...)

Anyway DF ..

DragonForce 2008 is here

DragonForce Nov 2007 @ MEN Arena is
here
But their best ever gig in Manc (and even my baby cam was inspired that night !!) is
here
One day - one day - I WILL get my act together ref gig photography - it can be done, and I have done it at the lower level with big camera - see my pic of former PowerQuest drummer Francesco Tresca taken @ Satan's Hollow in Manchester last year (there is a colour version too !) ..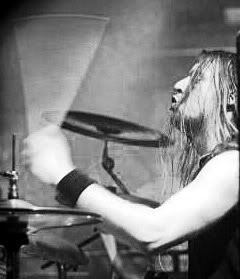 They're supporting Michael Schenker next week (PQ that is) - we'll have to see - maybe I can swap my spare DragonForce ticket for a PowerQuest ticket - after all PQ's Steve Williams used to play in DragonHeart - the early version of DragonForce ...
My God .. I've wobbled on a bit tonight - hope it was worth it ...
.