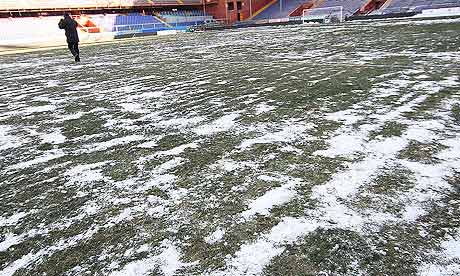 ... and even the Woodley Sports "all-weather surface" has failed today ...

Just got back from work (OK about 1405hrs) - it started snowing just after 1200hrs in Greenfield ...
... forget non-league football "up our end" today - unless you live in Fleetwood or Durham. Conference North all off; Evo-Stik Prem all off; Evo-Stik North all off (except Durham v Mossley - hope it lasts longer than 43 minutes - hope the coach gets back as well !); Evo-Stik South all off (except Sutton Coldfield v Kidsgrove); North West Counties League all off as well.
Reckon I was right "not to be bovvered" ... ESPN here we come !

(1455hrs update - still snowing - and it's sticking !)
.